We are pleased to introduce a new remedy to the Uriel formulary which we hope will be an important contribution to the support of patients confronted with new onset and chronic Lyme disease, as well as other tick-related conditions.
The Borrelia bacterium, which triggers the symptoms of Lyme, shares many qualities of other chronic infections and subsequent chronic inflammations with bacterium Treponema pallidum, the agent of syphilis and streptococcus. All of these infections can lead to autoimmune type sequalae after periods of unresolved chronic inflammatory processes.
Lyme disease has also penetrated deep into the psyche of many people and has caused many parents and individuals to stay away from nature for fear of infection. This demonstrates how human beings are becoming increasingly separated from nature in their everyday life and consciousness. Many of our community events once celebrated with respect for nature are dying away and our modern way of life has disrespected the environmental balance and the animal populations which live there. Instead of learning from nature, we are losing the deeper understanding about our interconnectedness with it. We increasingly fear what we cannot understand.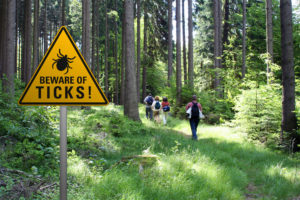 In Reynoutria Lyme, we have attempted to address the deeper aspects of Lyme disease while also exploring the substances proven beneficial to treat symptoms.
For instance, we have used biodynamically grown Reynoutria japonica (Knotweed),Dipsacus sylvestris (Teasel root) and Astragalus in this remedy, which are commonly used for Lyme treatment today. However, we took up indications by Rudolf Steiner to process the hard fruit/flower extract and the root extract separately before combining them in a particular proportion. Looking at the tendency to chronic immune dysfunction, we added locally grown wild Helleborus niger, which has many immune regulating properties like Viscum album, but with a stronger anti-inflammatory effect on the nervous system.
We surrounded the above substances with Apis extract, which is often useful and salutogenic, to push a chronic inflammation towards resolution. Mid-range potencies of Quartz, Argentum metallicum, Aurum metallicum and Cuprum metallicum were then added to address a picture of how Lyme disease unfolds within the threefold and fourfold organism of the human being, especially between the astral and Etheric (aeriform and fluid) bodies of the human being.
We strongly believe this remedy can be used to provide immune support for symptoms of tick bites. It is important to note, we are not suggesting this remedy can replace antibiotic use. We encourage clinicians to try this remedy and report feedback.
Dosage
The dosage recommendation is 10-14 drops four times daily for adults for four to 12 weeks and five to seven drops for children under nine years old. We do not recommend drops for infants and children under two years of age at this time or only use according to a doctor's supervision. The remedy should be used immediately after a tick bite preventatively for several days or post-Lyme treatment with antibiotics for three to four weeks. For joint, neurological and auto-immune Lyme symptoms, it can be used for eight to 12+ weeks depending on the severity of the illness. Buy Reynourtria Lyme in our online homeopathic retail shop.